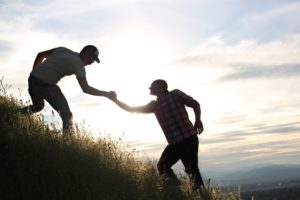 Emerald Isle Chapel By The Sea's "One Another Ministry" is a special ministry to the chapel family; our members and those closely associated with our church.  If you as a member have need of assistance from this ministry or you know of someone who needs assistance, contact Pastor Clay or Pastor Robert.   
Scriptures supporting the mission of this ministry are:
Let me give you a new command: Love one another. In the same way I loved you, you love one another. This is how everyone will recognize that you are my disciples – when they see the love you have for each other.  – John 13: 34-35
Suppose there are brothers and sisters who need clothes and don't have enough to eat. What good is there in saying to them, God Bless You! Keep warm and eat well! – if you don't give them the necessities of life? So it is with faith: if it is alone and includes no actions, then it is dead. – James 2: 15-17 
Therefore, as we have opportunity, let us do good to all, especially to those who are of the household of faith. – Galations 6:10
This ministry is working to serve our church family by:
Providing limited financial assistance to those in crisis situations. We are working to identify, and want to be made aware of, those in need and to determine the level of assistance the church can provide.
Financial counseling is offered regarding budgeting, job searching and making use of community, government and public resources for food, clothing and financial assistance.
Another service provided is an exchange of information about services and goods or items offered or needed by means of a bulletin board in the church and forms on the chapel's website. For example, members could list work or services they need and could pay for or items they have for sale or donation.  Also, members could list services or work they can provide for pay. I am talking about services such as painting, yard work, small jobs or transportation. Items for sale or donation could be household items, appliances, clothing, furniture, etc.
Also, we provide a listing of community and federal/state/county public assistance programs and resources for financial assistance, food, clothing, services, etc.
We want to be made aware by those in need and those who know of someone in need. Please check the bulletin board at the church and/or the church's website for information about this ministry and forms you can fill out, that will be forwarded to our committee. This committee can be contacted by calling the church, contacting the committee members directly or through the website. You are welcome to contribute to this fund at anytime.  Please indicate in the comments part of your check or on the envelope it is for the One Another Ministry or when donating "online" select the "One Another Fund".   
Thanks for supporting your church family!